Safety has been at the forefront of every stage of the project from design, construction and through to operations.
Canberra Metro's priority is always the safety of our customers, staff and members of the public.
To support the safety and security of customers, CCTV cameras on board light rail vehicles and at stops monitor activity which can be viewed by the Operations Control Centre.
A wireless data network runs the length of the route allowing direct communications between light rail vehicles and the Operations Control Centre.
Safety Features of Light Rail Vehicles
The light rail vehicles (LRVs) are fitted with Help Points so that passengers can contact the driver if they need assistance.
The LRVs have, a 'Wrong Side Door Protection System'. This ensures that when the driver releases the doors for opening at a stop they open on the side where the platform is.
The LRVs are very quiet and smooth. Even at the maximum line speed of 70kmh the noise levels are low. To alert members of the public of their approach the LRVs are fitted with audible warnings (both horn & bell) as a safety feature and they have high intensity headlights.

Overhead wires
The overhead wires in Canberra are more than 6 metres above the ground, substantially higher than in other jurisdictions in Australia and well above the Australian standard of 5.5 metres
Rail Safety Tips
Only cross the light rail tracks at designated crossings and intersections. Always wait for the green pedestrian signal before you cross.

If crossing the light rail tracks at a crossing that has no pedestrian signals, stop and look both ways before you cross. Light rail vehicles are quiet and can approach from either direction.

Always pay attention and stay alert around light rail. Earphones and other distractions like texting, reading on your phone and taking photos can put you at risk.

Cyclists should dismount when crossing the light rail tracks.

When driving please do not queue across intersections. Always wait for the path to be clear ahead before proceeding through intersections.

Remember, LRVs take longer to stop than other vehicles and cannot swerve to avoid contact.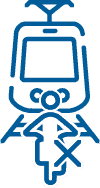 Tracks are for the light rail vehicles. Please DO NOT drive, cycle, walk or skate down the tracks.